Amazon's reintroduction of the European Fulfilment Network could be the supply chain solution you need to successfully trade and scale with Europe, from March 2022.
The European logistics problem
Brexit forced Amazon UK to strip professional Fulfilment by Amazon (FBA) sellers of European Fulfilment Network access in December 2020, and since then, UK sellers have been logistically and financially disadvantaged compared to European competitors. The change led to higher tax, shipping costs, and custom fees when fulfilling orders from the EU, and operationally, merchants had to add warehouses, duplicate inventory, and suffer from weakened visibility and control. The growing logistical spider's web is such that some UK e-commerce companies, small and large, have stopped trading with Europe altogether via Amazon.
We therefore welcome Amazon's decision to re-enable access for UK sellers to the European Fulfilment Network, from March 2022.
European Fulfilment Network (EFN) explained
The EFN is a European extension of Amazon's proprietary storage and shipping service, which allows sellers to outsource the supply chain process, including the receiving, picking, packing and shipping of products to Amazon. Crucially, the EFN extends this service across Europe, enabling FBA sellers to fulfil orders between UK and EU borders via Amazon's infrastructure and logistical know-how. Sellers can once again access European markets (included are UK, Germany, France, Italy and Spain) through a single, centralised, and domestic Amazon fulfilment warehouse, as seen pre-Brexit.
The benefits
For many SMEs, the EFN is the most efficient and simplest form of trading with Europe via Amazon, which comes with the following benefits:
The ability to fulfil orders from multiple markets from a single inventory pool, giving you greater visibility and control. The outsourced and simplified process creates a golden opportunity to scale without replicating labour intensive administrative processes for each market. 
The option to list products on all European marketplaces with one VAT number and have Prime status ensured across all markets.
The enrolment is automatic, providing you are using FBA in one European store, meaning transition is instant. 
The ability to create offers across all marketplaces using the same process as via your European account.
Overall, the EFN enables ambitious businesses to scale without the logistical complication.
The costs
As the EFN makes trading with Europe easier for you, it will also make it easier for your competitors too. The EFN will lower the barriers of entry to these markets, so we expect a surge of EFN-enabled Amazon sellers competing for new market share, so adopting early will give you a first mover advantage, but this will soon become a prerequisite for serious Amazon sellers. The E-commerce team at Croud can help you navigate the options and risks by picking the right package for your needs and objectives. You will also need to consider amending your prices to reflect the adjusted cross-border fulfilment costs of the EFN. Disposal and return costs are naturally higher in international trade, and these are reflected in the below cost rate card- which can be accessed in full here, (Amazon may further amend this from April).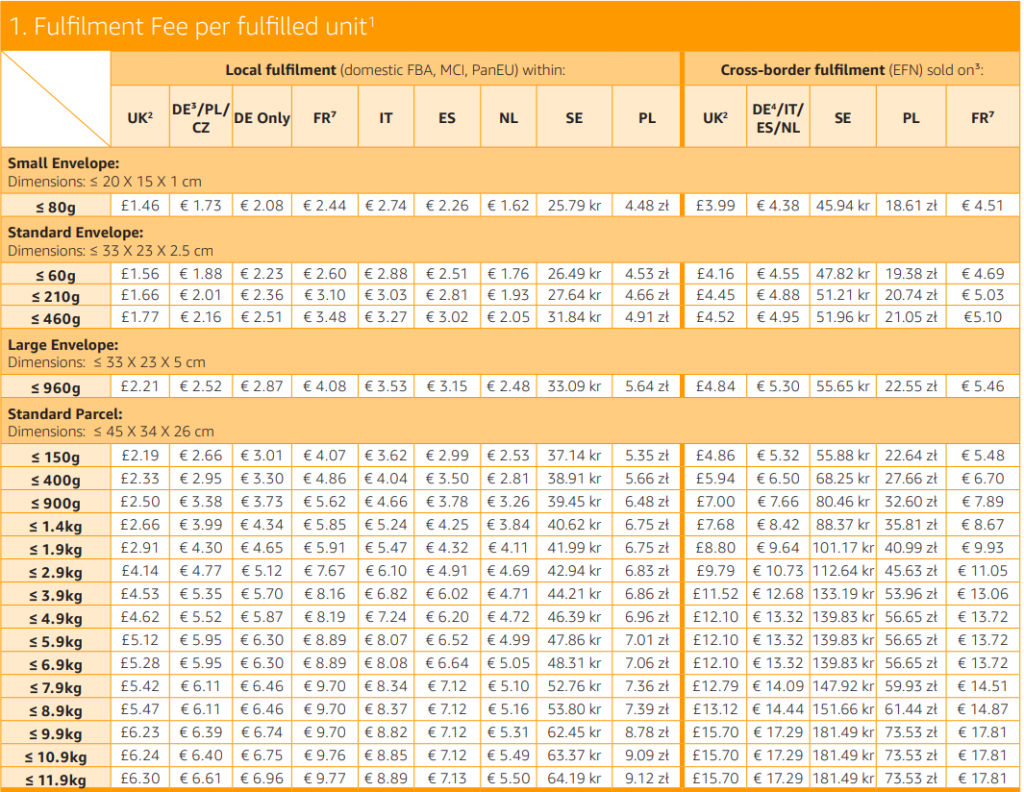 Eligibility
To be eligible, you must:
Have product offerings in both the UK, Germany, France, Italy and/or Spain
Have an Amazon European seller account; trading in either UK, DE, FR, IT or ES
Have Export setting enabled between inventory location and destination
Be FBA registered
The summary
Logistical and supply chain issues are the primary issue damaging and restricting business growth for e-commerce companies – Brexit changed the terms of trading and these issues were then exacerbated by the pandemic. Now, the return of EFN signals the welcome return of frictionless trading, and will act as a confidence boost for ambitious businesses – small and large. Although the Amazon logistical options of Pan European FBA, FBA Export, EFN and others, can be confusing, the E-commerce team at Croud specialise in full end-to-end consultancy across Amazon, and can create, manage, and scale your business on Amazon through advertising and logistical consultancy. Our back-end specialists can implement the most appropriate Amazon logistics package for you, helping you successfully scale and trade with Europe.
Contact us for more info on how we can help to create, manage and scale your e-commerce business.