Introduction
Gone are the days of separating search engine optimization (SEO), media relations, and overall brand strategy. Over the past few years, digital public relations (PR) has been able to successfully address all of these factors and more. If you're not utilizing a digital PR strategy for your site, it's time to consider implementing it into your digital strategy. 
What is Digital PR
Digital PR is the process of creating newsworthy and engaging content with the goals of improving a website's SEO and overall brand authority. Digital PR content should be brand-relevant and created with the target audience in mind. The content should also be newsworthy to attract the eye of high-authority publications to share with their readership. 
As the content is shared on these high-authority publications, they often link back to the site, creating a healthy backlink profile for the domain. This means that the coverage on these publications provides brand authority benefits, and the backlinks provide SEO value. 
How does digital PR boost SEO?
Google and other search engines analyze a site's backlink profile (both in quality and quantity), and use it as a ranking signal to determine its position within the search engine results pages (SERPs). To put it simply, if your site is lacking in backlinks, Google views it as less authoritative, making it less likely to rank. 
For most brands, the ultimate goal of digital PR is to boost SEO performance. As your site's backlink profile grows in both quality and quantity, your site's organic performance can improve. Because of this, it's crucial to have a digital PR strategy for your site to improve your backlink profile and to increase your overall rankings within the SERPs. 
In this example, Rovva was nowhere near the top of the SERPs for the keyword "virtual offices." After implementing digital PR tactics to their marketing efforts, their ranking for this search term skyrocketed over the course of a month. While growth doesn't always happen that quickly, this is the perfect example to showcase how high-quality links can help you see upward mobility in your SERP positions.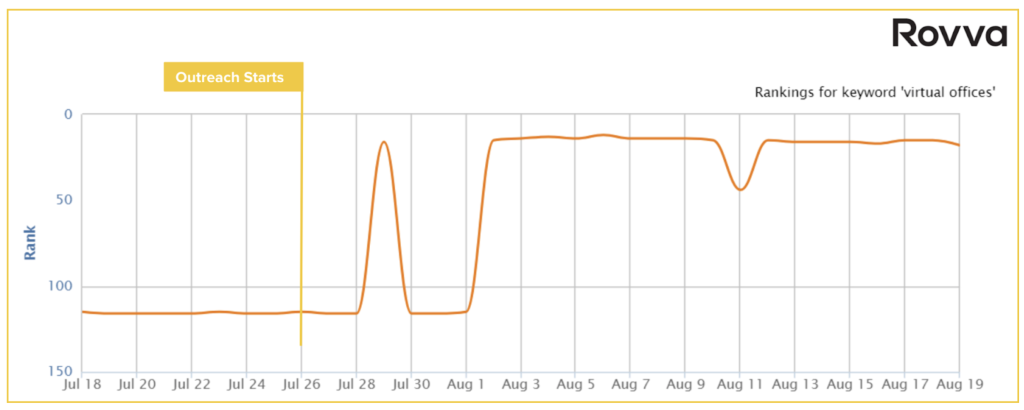 How does digital PR benefit your brand?
Along with boosting SEO performance, digital PR can also improve your brand's authority in the verticals most relevant to your target audience. Google's John Mueller has made it clear that link relevance is more important than link totals, meaning the content made and covered by high-authority publications should be relevant to your brand and address topics that are of interest to your target audience.
Because of this, a good digital PR strategy puts relevant content right in front of your target audience to increase brand authority and consideration. The content that leads to these media mentions should be engaging, interesting and helpful for a publication's audience. Quality content increases the likelihood of a publication covering your brand, and it improves the credibility of your brand to your target audience. 
If done correctly, the content made with digital PR can make your brand stand out in the best way. This content can be product-led or address a trending topic that everyone in the news is talking about. Putting your client in the center of trending information increases their visibility and leads more people to their site.
How is it done?
Google Search Console states that the best way to get other sites to link to your site is by creating unique, relevant content that can gain popularity in a natural way. There are a variety of content types that the digital PR community has used over the years, and they will undoubtedly continue to evolve in the future. Whether it's a data-backed ranking or a quick reactive quote on a trending news story, digital PR leads with a story that publications want to cover, and when they link to your site, it brings immense SEO value. 
Summary
Digital PR can benefit your site in a variety of ways. If your brand is constantly fighting for high SERP rankings in an increasingly competitive market, digital PR could be the solution. 

If you'd like to learn more about digital PR, or would like to implement this into your digital marketing strategy, please get in touch with our team.