In June 2023, Apple previewed iOS 17 at their Worldwide Developers Conference. Amongst the new features that were announced, Apple introduced 'Link Tracking Protection,' which automatically removes some user-identifiable tracking parameters from URLs. 
iOS17 was rolled out as a Beta in July earlier this year, before its full release this September. In this blog, we take a look at this new feature and its expected impact for marketers.
How will iOS 17 Link Tracking Protection work?
Link Tracking Protection will be enabled by default in Apple's native Mail app, Messages, and Safari's Private Browsing mode.
It works by sorting user-identifiable tracking parameters used in uniform resource locators (URLs), and then removing some of those parameters. These are automatically placed into links by Google, Facebook, and several affiliate platforms to track users' activity across their buying journey. By removing these parameters, Link Tracking Protection makes it more difficult for these companies to track users' online behaviour.
How will Link Tracking Protection impact advertisers and what can be done?
Looking at the first few tests, we expect the impact of this update to be limited, though it may make attribution and measurement slightly more difficult in some scenarios.
Typical Urchin Tracking Module (UTM) parameters such as source, medium, and campaign will not be affected by this update, as UTMs are not personal identifiers, but instead aggregate information on where traffic originates from.

Identifiers used by Google, such as gclid, or fbclid for Meta platforms, that are automatically generated are expected to be stripped. However there's no need to panic just yet, as most users are using the platforms' native applications on their phone or through their browsers; they aren't engaging with Google, Facebook, Twitter, etc. through Mail or Messages. Google Ads Search will only be impacted if users are browsing incognito (Private Browsing mode) in Safari.
Update 19/09/23 following full release of iOS17 on 18/09/23:
Advanced Tracking and fingerprinting protection can be toggled for all browsing. This means that the impact may be higher than initially anticipated.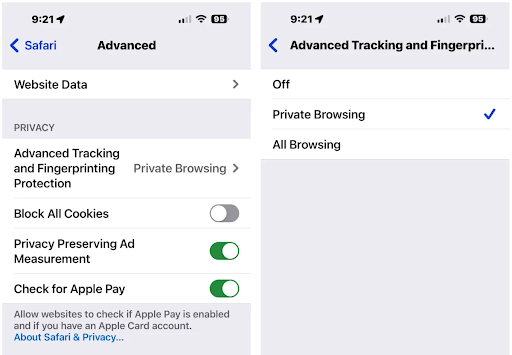 Links shared via email marketing or short message service (SMS) campaigns that contain UTM parameters would also remain unaffected.
What will not be impacted by Link Tracking Protection in iOS 17?
It's worth remembering that this update affects users who are in Private Browsing mode in Safari, or using Apple's native Mail or Messages apps. 
With that in mind, we know that the below platforms and parameters won't be impacted: 
Standard (i.e. non-Private) browsing
Standard UTM parameters
Custom parameters, such as 'tw_source', and in fact, any parameter that isn't listed here, under 'Tracking query parameter tests.'
What can we expect in the future and how can advertisers get ready? 
It's likely that Apple will extend and make more sophisticated rules for stripping query string parameters. It's possible that Apple may develop technology that intelligently identifies unique identifiers even as the value of non-standard, custom parameters. 
We can also predict that Apple will expand Link Tracking Protection to standard (i.e. not-private) browsing. At present, tracking parameters on standard browsing destination URLs are only affected when they originate in a URL that was clicked from the Mail or Messages apps.
Advertisers will need to continue to adapt and prepare for the potential impact these additional updates may bring, but the good news is that most platforms are already built to track users using different methods. Advertisers that have been early adopters of privacy-safe technologies such as server side tracking, consent mode or enhanced conversions will be in the best position to mitigate the potential impact it might have on measurement and quality of their marketing campaign data. 
If you have any questions on the above or would like to chat to our team to maximise your data and measurement strategy get in touch with our data solutions team.