Marketers have a handful of options when it comes to planning media. While we have the core channels – online and offline –  we've also seen the offerings within each channel change shape over the last few years, whether it be an innovative piece of technology, a new offering or a transformed tactic. 
Navigating these opportunities can become overwhelming. Do we opt for the new kid on the block, becoming a legacy advertiser and the first to market in a new space? Or do we revisit tried and true channels that have adapted within the landscape?
Redefining traditional
There are several examples of traditional media we can examine to explore ways advertisers can make the most of re-emerging media channels.
Out-of-home (OOH) media
OOH is an excellent example of a channel that has undergone a notable transformation in the last several years. In August 2022, Google announced it would now be further supporting digital-out-of-home (DOOH) by providing access to this inventory across Display & Video 360 (DV360). Based on projections from eMarketer, DOOH ad spend is projected to grow continuously over the next several years and, with vendors like Google making purchasing power easier, the opportunities are endless.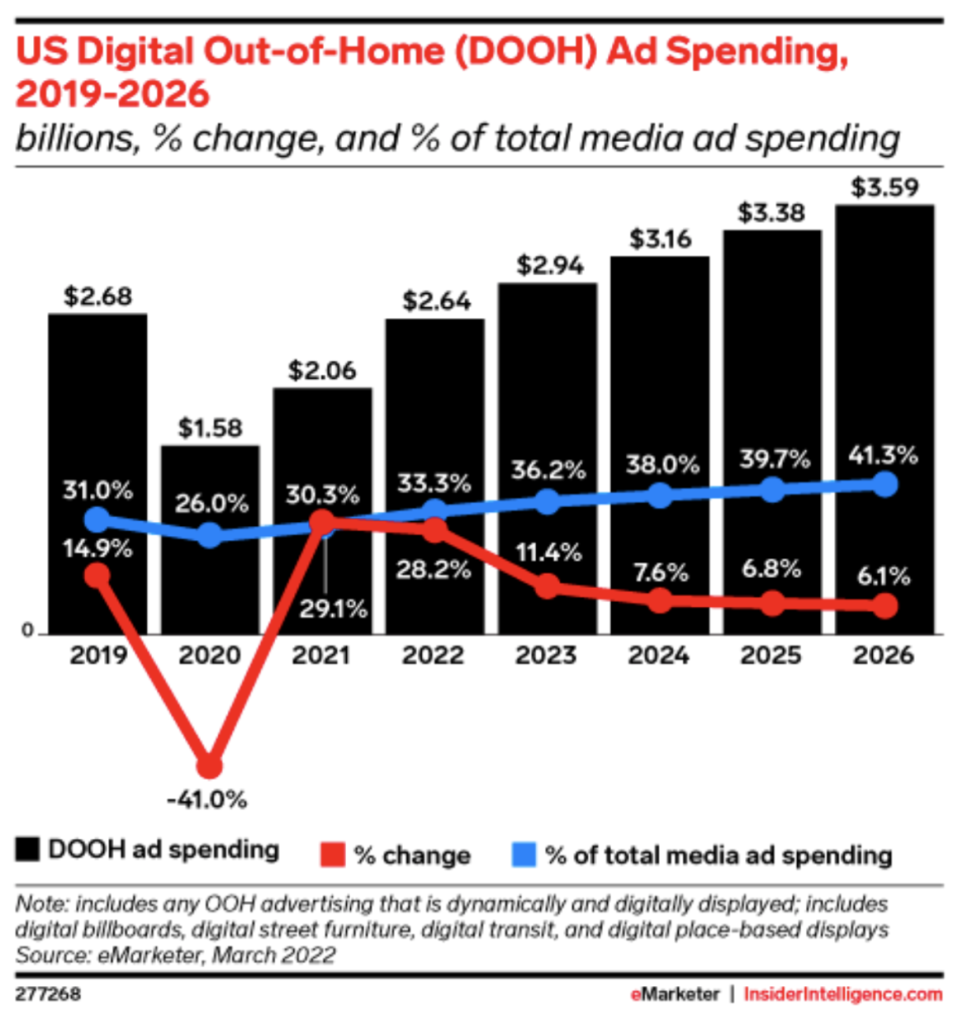 The integrated digital offerings of purchasing OOH has made this tactic an efficient way to reach mass audiences. Targeting has become a flexible option and advertisers now have the opportunity to integrate bottom-funnel performance campaigns by leveraging location-based data. 
While this is not a new media channel, it's one that has quickly adapted to the evolving digital landscape and refined its offering to address viewability and attribution. On top of this, OOH has shifted its offerings cross-funnel. 
Connected TV (CTV) advertising
CTV has redefined the TV space, making great strides in attributing media across this forefront. According to IAB's 2021 Video Ad Spend and 2022 Outlook, CTV ad spend rose 57% in 2021, reaching $15.2 billion – and this growth is predicted to continue and double within the next few years. 
Taking into consideration cord-cutters, viewing behaviors and the current digital landscape, advertising partners have successfully remodeled this product to account for dual-device viewership and changing consumer sentiment towards advertising by offering free entertainment in exchange for advertising.
To further elevate these tactics, the introduction of QR codes has been monumental in giving old media a new face. Never before could a billboard or TV commercial have the ability to drive and track traffic to sites. 
When navigating through re-emerging media, it's typically less risky to invest back into these channels because of their history and familiarity. It's often a nice alternative to freshen up plans, as opposed to seeking the newest offering that may not yet be trusted. But when the temptation to jump into the newest shiny opportunity presents itself, how do we address that?
Netflix has been turning heads following their recent announcement to release more information and details around their ad-supported subscription offering. Advertisers have long-awaited the day that inventory becomes available across Netflix, a leader within the CTV industry with over 200M subscribers. 
However, the excitement has begun to wear off as more information on this update is shared. According to Digiday, Netflix is expecting a $65 cost per thousand impressions (CPM) for advertisers, not allowing third-party measurement partners and setting a $20M base amount around which advertisers can negotiate. They are also projecting 500K subscribers to their ad-supported tier by the end of the year. 
A question advertisers are facing now is, is this risk worth the reward? Breaking it down, a $65 CPM is quite high, with average premium CPMs sitting around $25–$30, so there is a risk when it comes to media investment. With only 500K anticipated subscribers and likely a limited group of advertisers who are going to make this jump, there's a risk of maxing out frequency caps here and perhaps not making a great first impression as an advertiser with Netflix. Depending on the brand's goals and key performance indicators (KPIs), a high CPM and the restrictions on third-party measurement partners can lead to issues in terms of tracking performance or even seeing that return on investment (ROI). 
That being said, if a brand executes this in the right way, they can become first-to-market advertisers for Netflix and make a splash, reaching streamers in a brand new way. With the holidays right around the corner, media gets expensive, inventory becomes scarce and perhaps this white space is exactly what some brands are looking for to make a statement and reach potentially untouched audiences.
Reinventing media
Between the metaverse, non-fungible tokens (NFTs) and growing virtual and augmented reality capabilities, we've seen quite a few notable emerging media channels. So, how do we know when to invest in these types of media?
Impact and lift
When vetting new partnerships, it's important to take a step back and look at this from a macro-level. You must first examine how entering this space may impact existing media or messaging, and ensure that this early entrance into the space makes sense for your brand as a whole. 
It's equally important to vet best practices for entering a new space, as this will tie into impact and lift. Let's take TikTok for instance; at its emergence in 2019, it was a politically sensitive platform to invest in. With its potential ban in the US and privacy concerns looming, many advertisers were hesitant to begin investing in this social media platform. When this obstacle faded, we saw brands increasingly enter this space, despite not having invested enough time into the lift. "Make TikToks, not ads" – this is the best piece of advice TikTok offered advertisers. Those who didn't listen, didn't rise to the top. Simply repurposing existing assets and taking shortcuts to activations had a boomerang effect to the brand's favorability. 
Risk and reward
This piece of the puzzle addresses performance and the consumer side of the equation. This serves to review any potential risk to performance or brand perception, and examines exactly what the reward for taking that risk might be. If the brand enters into new, unknown territory, we risk burning bridges with users of the platform early on and tarnishing the brand's reputation, or not properly executing and losing dollars. 
A good example of this in 2022 are NFTs – a rather risky and unstable product, reliant on market factors and a very niche target with limited awareness. We've seen several luxury brands take advantage of this offering, such as Gucci and Nike. However, if a brand doesn't fully understand the NFT community, they can easily fail in this space, as the WWE did when they attempted to sell Golden Tier NFT tickets and saw minimal traction.
In early days, the risk is often higher – however, so is the reward. Based on your organization's priorities, it's essential to assess and forecast what the return on this will be and whether or not it's worth making a splash.
If you'd like to learn more about emerging and re-emerging media channels, please get in touch with our team.