Part two of our knowledge panel series will be exploring the various methods for triggering a knowledge panel for your brand, and what you can do to prevent it disappearing. As mentioned in part one of our knowledge panel series, there is never a full guarantee that a Google knowledge panel will show for your brand, but the good news is that there are some tried and tested strategies which you can follow to greatly increase your chances that it will. 
Creating a Google Business Profile
Of the whole process, this is the first and most important step to take. Creating a Google Business Profile through your company's Google account sends the first signal to Google that the business exists. Here you'll also be providing relevant information like phone number, product/services, address, photos – all of which are important facts that could potentially be shown on the knowledge panel. See Google's guide here on how to claim or add your business profile on Google.
Using Wikipedia
Wikipedia might be the most straightforward path to take when it comes to getting a knowledge panel. As we've mentioned earlier, when Google is learning about an entity, it is scouring the web to find relevant high authority websites to confirm its findings and help better understand the information. Wikipedia happens to be one of the more authoritative sources Google refers to during this learning process. This is also why you will see a lot of branded and personal knowledge panels with a Wikipedia snippet on the business description section, like the image below: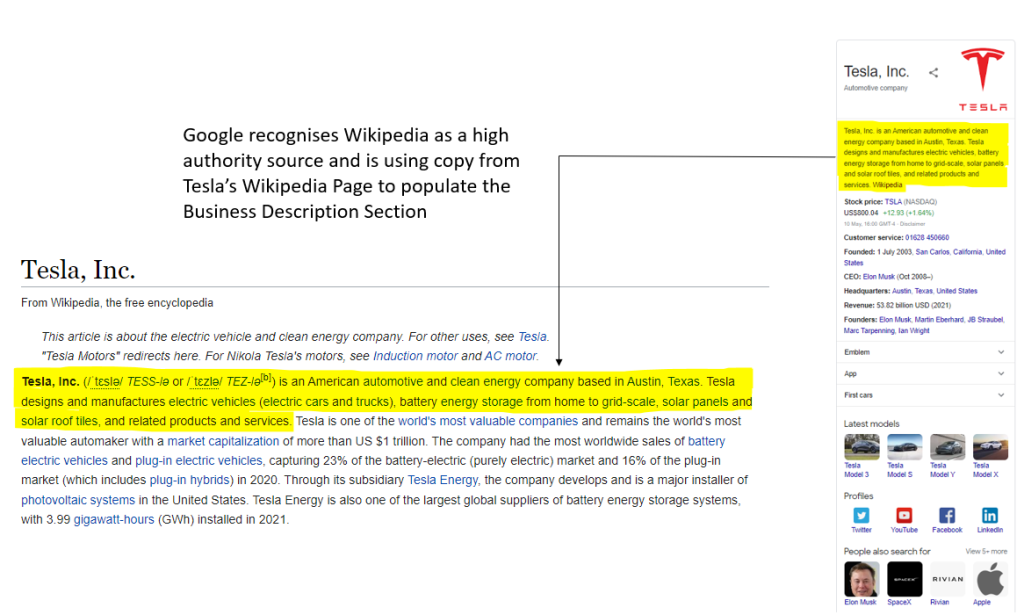 Prior to heading down this route though, there are a couple of questions to ask yourself.
Is my company Wikipedia worthy? By this we mean, is it a notable business? Is there significant coverage online about the business? Are those sources reliable? You'll find that most companies are not on Wikipedia simply because they just aren't notable enough. 
Do I have the resources and time to create a sufficient Wikipedia page? Creating a good Wikipedia page requires tremendous effort, you not only have to follow the specific Wikipedia guidelines on writing style and formatting, but provide a long list of secondary sources too. Not only that, you must do research beforehand, not just on your company, but about their policies and strategies for getting an article approved.   
However if you have answered yes to both questions, then this could be the route for you. Below are the pros and cons of using Wikipedia for triggering a knowledge panel. 
Pros
The advantage of this approach is that it can be relatively straight forward. You do the research, create a piece about your business, get it published on Wikipedia and wait. Obviously, there's no guarantee that it will trigger a knowledge panel, but if it gets to a stage where it is notable enough to be on Wikipedia, it most likely means that the company is well known enough to have a knowledge panel.
Cons
Firstly, the time and effort. As mentioned above, the whole process is long. Not only that, but there is also no guarantee that Wikipedia is going to publish the piece. You could potentially be spending a month or so writing a piece which could ultimately get rejected. 
Secondly, the lack of control. Wikipedia editors can make changes to the content which may not necessarily reflect your brand. As we know knowledge panels are dynamic, they are generated automatically and can change, so if the content on the Wikipedia page changes, then the information on the knowledge panel could be altered accordingly. This runs the risk of incorrect information about your brand being displayed, so you need to consider whether this is a risk you are willing to accept.
Lastly, if the Wikipedia page gets deleted and your knowledge panel is solely reliant on Wikipedia, the chance of it also disappearing is extremely high. 
An alternative three step process
Founder and CEO at Kalicube, Jason Bernard, has proposed an alternative method in which brands and people alike are able to not only trigger a knowledge panel but also have control over the information displayed.  
Step one: Identify the entity home
Bernard states that the first step involves identifying the entity home, which is 'where the entity lives online'. The goal of this is for Google to use this page as the main reference for sourcing and reviewing information. The entity home should be a page on your website, ideally an 'about us' or similar page, where you can list out all relevant information about your business in a clear and concise manner. If Google recognises your business's site as the main source of reference, this means that you won't have to worry about the knowledge panel showing incorrect information because you are in control over the information displayed on your site. Another benefit is that you won't have to worry about the knowledge panel potentially disappearing. 
Step two: List out all relevant information on the entity home  
Once the entity home is identified, write out all the relevant information about the business in an extremely structured, simple way. This means that the page needs to have various sections with clear headings and straightforward answers to follow. Include all the facts in which you think a user might find useful.
Once complete, add the Organisation Schema.org markup to help Google better understand the content. With this step, you'll also be confirming the logo, business name, address, social media accounts, website and more. 
Tip – using tools like search metrics to see what queries trigger a knowledge panel can be a good place to start when planning out your content. If you know that queries like 'Croud founders' or 'Croud services' for example, trigger a knowledge panel, you can structure the page accordingly. 
Step three: Identify relevant sources and link to them 
The final process is about identifying all the high authority relevant sites and linking out to them. Prior to doing so however, you need to ensure that the information written on those sites are close to identical to what's written on the entity home. The whole purpose of this is to consistently educate Google to ensure it has confidence in the information. Only when Google observes numerous high authority sources confirming everything written on the entity home, will it believe that the information is factual.  
A key thing to note here is that the more sources you can provide as a reference the better. Bernard states that the minimum you should have is 20, and in addition, if you can get those sites to link back to the entity home this will send a stronger signal to Google as it creates an 'infinite, self-confirming loop'. 
Accepting and claiming your knowledge panel
If Google has accepted your site as the entity home, you will see a little globe icon on the knowledge panel (see image below).
Once accepted by Google, you can now claim the knowledge panel yourself.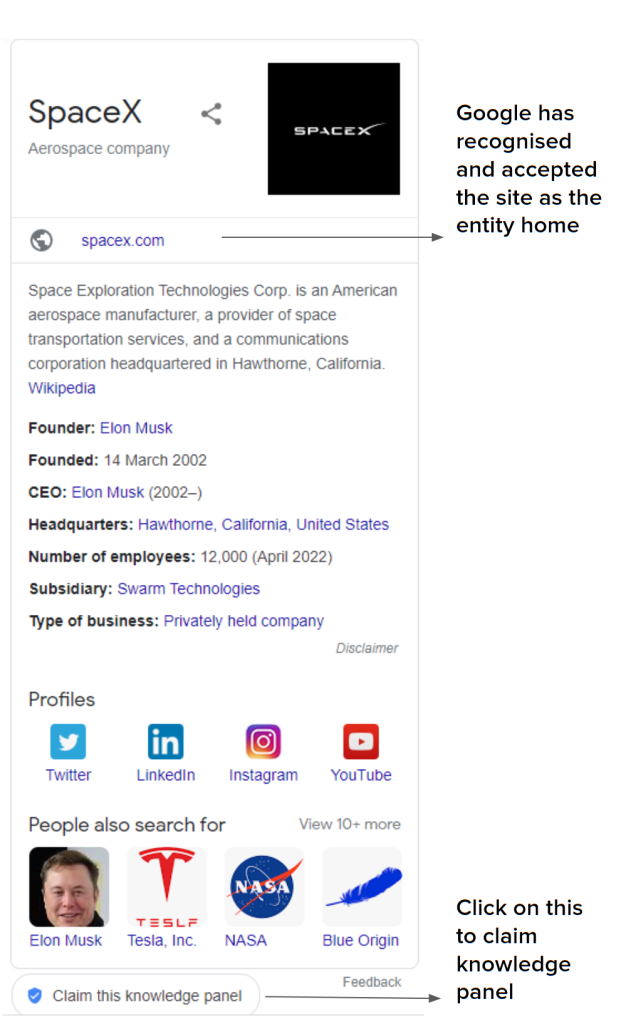 After clicking the 'claim this knowledge panel' button you will be asked to sign in to one of the official sites related to the entity i.e. Search Console, YouTube, Twitter or Facebook. If Google can't recognise any of those sites, you will be required to provide documentation proving your relationship to the entity. 
Why do knowledge panels disappear? 
There are a couple of reasons as to why a knowledge panel might disappear:  
It can disappear if an individual files a report on a knowledge panel stating that it is incorrect, misleading or in violation of Google's search policies. 
It may also disappear if there has been an algorithm update with Google's Knowledge Graph, but if you have a strong knowledge panel with numerous high authority sources backing up your facts, the chances of it disappearing are slim. You can use Kalicube's tracker to monitor updates. 
f the main source of information has disappeared, whether this be a Wikipedia page, or the 'about us' page on your own site, then the knowledge panel might follow. 
In summary
To summarise, having a knowledge panel allows you to dominate Google search engine results real estate, increase brand visibility and maintain credibility. As with all things SEO and Google, despite the relatively straight forward strategy to having a knowledge panel there is never a guarantee, and building a strong knowledge panel requires immense effort and consistency. However once this is achieved, having a knowledge panel will establish authority and strengthen your brand image overall. 
If you are interested in improving your brand's presence or would like to speak with a member of our SEO team, please get in touch.