In April, our SEO team ventured off for the BrightonSEO conference which was once again packed with insights from multiple industry experts. In this blog, two members of our SEO team have put together key takeaways from their favourite talks, reflecting back on the overarching themes of this year's event.
Emily Whittington , SEO Account Manager
How ChatGPT is transforming the world of SEO
The world of SEO is ever-changing, and one of the hottest topics in the industry right now is the use and growing capabilities of ChatGPT. We heard from big names like Ashley Liddle, Carrie Rose, and even Croud's very own James Ball, who've shared their thoughts on whether this tool has a part to play in SEO. But with all the chatter around it, some are questioning whether it's worth the hype or if we should be wary of it.
"First, let's take a quick look at what ChatGPT is. ChatGPT is a language model developed by OpenAI that is designed to generate human-like responses to natural language inputs. It has been trained on a massive dataset of text from the internet and can generate responses on a wide range of topics."
The above was provided by ChatGPT, from the prompt of "could you start a blog discussing ChatGPT and SEO?". Although this may be correct and constructed pretty quickly, can we really rely on it?
As SEOers, we are always looking for ways to increase efficiency and productivity, and ChatGPT is a tool that could do this. With its ability to generate metadata, suggest article topics, and even provide code snippets, ChatGPT can save time and streamline routine tasks. However, many speakers at BrightonSEO have expressed worry about relying too heavily on the tool in a creative environment. ChatGPT is based solely on data, which means it may not fully capture a client's tone of voice or unique style. While the tool can certainly generate an article about a topic like "beer" and "how to drink it", it may not be able to match the client's specific needs and preferences.
Like any technology, ChatGPT is constantly evolving and may not always be perfect. During James Ball's talk; 'ChatGPT: Localisation's friend or foe?', he discussed the research undertaken ahead of BrightonSEO, into the use of AI for content production, focusing on translation accuracy. From his research, it was evident that ChatGPT made double the number of human translation errors, in particular within the Spanish and Chinese languages. 
He also discussed the relationship between Experience - Expertise - Authoritativeness - Trustworthiness (E-E-A-T) and AI, and what Google may think if website owners use AI-generated content: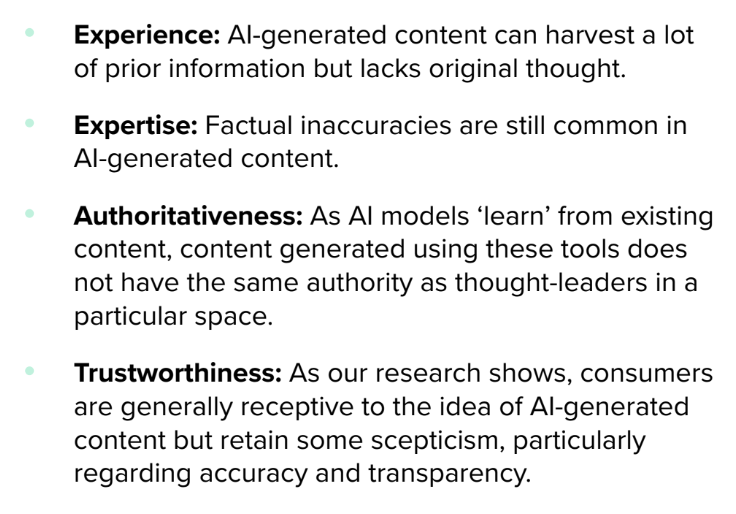 An excerpt from Croud's report - ChatGPT and localisation – friend or foe?
And with experience being a hot topic within the SEO industry, can ChatGPT add value here?
I believe that as an industry, we should embrace the potential of ChatGPT and use it where possible to enhance our SEO efforts. However, we should also be cautious not to rely too heavily on it. While ChatGPT can be a useful tool to aid us in our work, we must remember that it cannot replace our own expertise and creativity.
To conclude...
So that's a wrap on the April 2023 BrightonSEO, but if you missed James' talk and are wanting to find out more, not to worry! We're hosting an event at our London HQ on 'Driving growth: AI strategies for retail marketers' where speakers from Croud, Microsoft and Meta will be exploring what the AI revolution means for retail marketing. 
We'll also be discussing the opportunities (and limitations) of AI-generated content for localisation, diving into our recently launched ChatGPT report, which James explored in his session. Sign up for the event here.  
If you'd like support with your SEO strategy, or have any questions on the topics mentioned, please don't hesitate to get in touch.