At the end of September 2021, Google announced that data-driven attribution (DDA) will become the default attribution model for all new Google Ads conversion actions.
In this blog, we will examine the reasons behind this change, dive into the model updates made in the background and explore the impact this will have on advertisers. 
What justifies this change?
The last-click attribution model was the default model in Google Ads used by most publishers within the digital industry. Whilst it allowed for a straightforward understanding of campaign performance, many advertisers realised that this was a sub-optimal attribution model, especially as they started to expand into numerous channels such as social, programmatic and video advertising. 
Changes in the privacy landscape over the last few years have also directly impacted how advertisers measure conversions. Marketers now need new approaches to help future-proof their measurement strategies across their digital marketing activity. With cookies and consent impacting measurable conversions online, publishers like Google are now racing to roll out solutions powered by machine learning, in order to preserve measurement accuracy and fight increasing cost per acquisition online.
What has changed with the new DDA model?
Until now, advertisers had the ability to switch to DDA if their account had received a minimum amount of clicks and conversions (3000 ad interactions and 300 conversions within 30 days). Google has now removed this data requirement and added support for additional types of conversions from display and video campaigns. This last improvement is especially exciting, as it will help advertisers better understand the full value of display and video advertising in a more holistic view – something that has historically always been a challenge.
However, the changes go far beyond what has been publicly shared by Google. In the background, the new DDA uses a completely new attribution model called Time to Event DDA. 
How is the new attribution model different?
This new attribution model is based on research from 2009, which notes that, "attribution credit in [Markov Chain Models] is based on the change in conversion probabilities when a channel or "feature" (i.e an ad, video, display banner, etc.) is removed from the chain." In short, the model will estimate the impact a new channel or ad will have on the probability for a user to convert. If we apply this to digital marketing activity, you could use a Markov Chain Model to compare how display ads contribute to driving revenue in comparison to paid search ads. The next step is "the use of Shapley values to distribute attribution credit, using the probability of a conversion as the value function in the Shapley algorithm".
The new Time to Event DDA model measures the contribution of each ad (text ads, display ad, video ad) towards the likelihood of a conversion over time. The credit assignment is made with a backward elimination from the conversion, as illustrated below. It's this approach (relative to the contribution to a conversion for each ad) that may also be used for bidding, i.e. the higher the predicted contribution is, the higher the system should bid.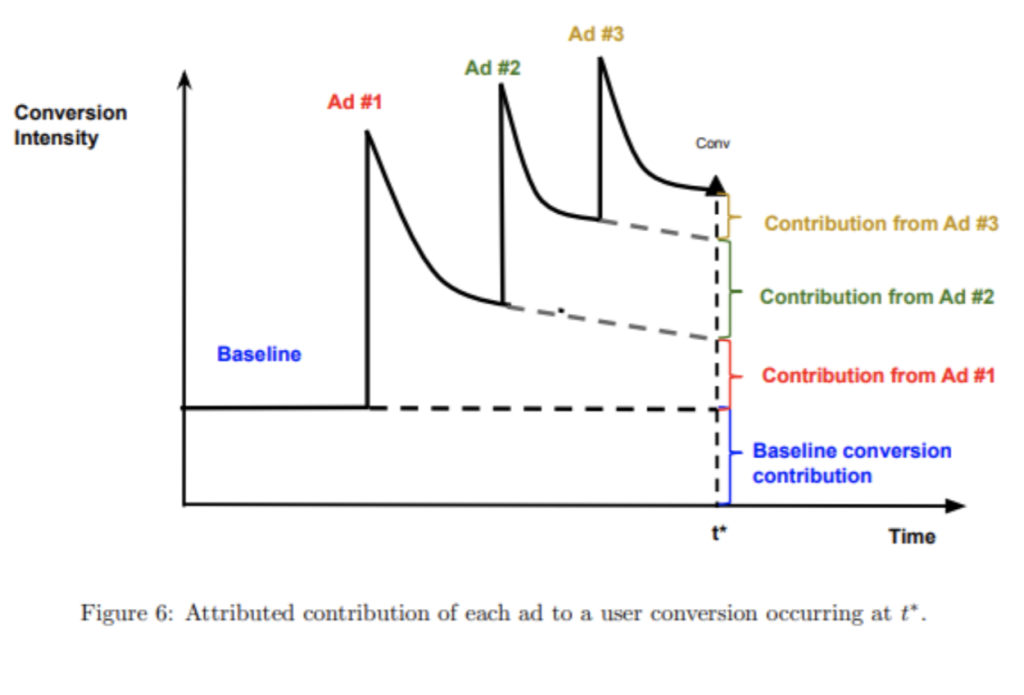 How will this impact advertisers?
In the same article by Google that was referenced earlier in this blog, a number of advertisers reported a drop in cost per sale and/or a rise in conversions. However, it's important to note that the time range associated with those results hasn't been shared, making it difficult to say with confidence that the new attribution model helps deliver improved performance. 
The shift towards the DDA model will answer most measurement questions, and we can expect advertisers to see its benefits the most when it's used across search, display and video. As presented in the previous section, we would expect advertisers to get the most of DDA when combined with automated bidding strategies, as the systems are now getting better at predicting the incremental impact of a specific ad. 
The switch to DDA will also help advertisers understand the full value of the campaigns that are not yet seen as top performers, but play a key role in driving awareness and consideration for an advertiser's product. This includes generic campaigns where the intent isn't as strong as it is for branded queries. 
Finally, for advertisers that want to measure the impact of DDA, the model comparison in the attribution section of Google Ads allows users to quickly identify campaigns that have been attributed a higher (or lower) credit compared to last-click attribution. This can be helpful in identifying opportunities to drive additional traffic and incremental conversions.
Going beyond in platform attribution
While it's smart to leverage attribution across platforms and channels, those models don't always answer the challenges faced by marketers when assessing performance and allocating media spend across channels. It's often more important to assess the marketing mix on both a macro and micro basis, and look at the bigger picture.
Luckily a number of solutions are available, like media mix modelling, which allow marketers to take a top down approach to channel attribution. Causal studies can help you better understand the impact of a particular channel or campaign in your marketing mix, while incrementality testing can allow you to measure the true return on investment of your advertising spend. 
Summary
With the privacy landscape quickly evolving, advertisers are increasingly shifting their digital strategies towards a data-driven approach. This recent update to Google Ads' default attribution model will help accelerate this change, with more advertisers now gaining access to a more holistic view of their performance, measurement and attribution. With this new DDA model, marketers can identify more areas of opportunity to drive conversions, while maximising their existing paid search strategy. 
If you're interested in learning more about Google Ads' new DDA model and how it will impact your current digital strategy, please get in touch with our PPC team.