Whilst TikTok became the world's most downloaded app in 2020, not many people know that it actually grew out of its Chinese cousin app, Douyin (抖音). Similar to TikTok's soaring global popularity, Douyin has also dominated the short-video and live-streaming realm in China. Recently, its move towards e-commerce has triggered a new "social commerce" retail revolution. So how can advertisers maximise Douyin marketing to grow their business?
If you are still unfamiliar with this app and unsure how to leverage its features, this article will take you through seven key questions marketers should ask themselves before launching a Douyin marketing campaign.
What is Douyin? How different is it from other social media platforms in China?
Douyin is one of the most popular short-video apps in China, with 600 million daily active users as of August 2020. Both Douyin and TikTok are owned by Bytedance, a Chinese tech company.
Douyin literally translates to "vibrant music," and its name perfectly matches the short-form videos (less than 60s) that the app allows users to create with dynamic background music and creative filters. This short-video content format immediately distinguishes Douyin from traditional Chinese social media platforms like WeChat and Weibo, in which content is still dominated with text, images and longer videos. 
Another feature of Douyin that makes it stand out is the highly personalised content recommendation system based on Bytedance's algorithm. It provides users with tailored content that is relevant to their interests and preferences. Through this engaging environment created within the app, users can easily share content to a wider audience and potentially create viral videos.
Why should brands tap into Douyin for marketing purposes in China?
Brands should always be evolving to accommodate the way their target audience prefers to engage. In recent years, short-form video has quickly become one of the world's top consumed media channels. According to a McKinsey survey, people in China spend as much as 358 minutes per day online, two-thirds of which are spent on social media and content apps. More importantly, 11% of the total time spent online can be attributed to watching, sharing and creating short-form videos via apps like Douyin, revealing the emerging preference for short-video content.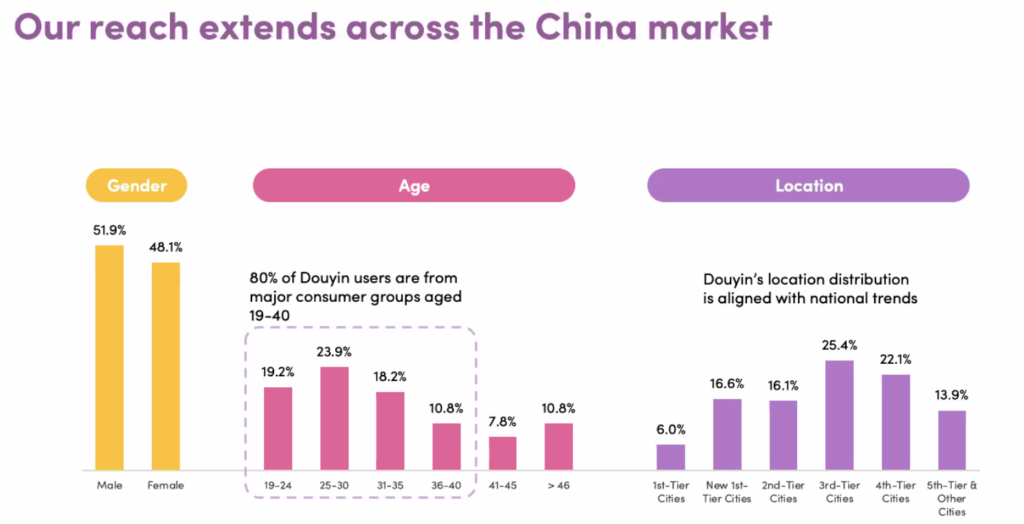 According to an official report from ByteDance, Douyin's daily active user (DAU) number reached 600M in August of last year. A whopping 80% of Douyin users are from major consumer groups aged 19-40 and their location distribution is aligned with national trends. The platform's successful market penetration revealed a wide range of opportunities for brands to reach their target audience and achieve business goals.
According to financial rating agency, Fitch Ratings, the market for live-streaming and short-video retail in China has grown exponentially since 2017, and we can only predict that it will continue to grow throughout 2021. For any brand who intends to enter the Chinese market, this would be a channel they don't want to miss out on.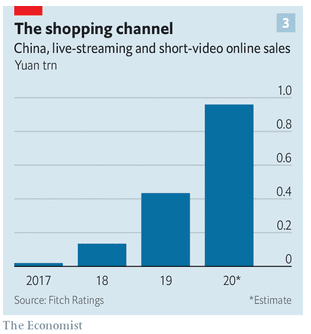 Apart from the huge marketing potential that the app offers, Douyin itself is shifting to become an e-commerce shopping platform. Brands can now conveniently build their native Douyin stores and link to their Taobao or JD.com stores to drive online sales directly; this allows users to go through the marketing funnel without leaving the app. The latest launch of its third-party payment service, Douyin Pay, clearly shows its ambitions to expand into China's e-commerce industry.
Can we repurpose creatives from other channels for Douyin directly?
In the past, we've seen some brands who have just cut longer videos into shorter versions, while others have moved generic content from different channels to Douyin without any optimisation. They all eventually suffered from limited engagement or traffic volume.
A dedicated content strategy that complies with the app's rules and regulations is essential to successful Douyin marketing. Short-form mobile videos are usually under one minute in length, and users can simply swipe to the next video if the first one fails to capture their attention within the first three to five seconds. Therefore, short-video platforms require more snackable storytelling and frequent content refreshment. Moreover, as the app leverages algorithms to filter users into different content categories based on what videos they engage with, content centered around trendy topics or relevant categories can easily go viral with the right target audience. 
Is it necessary to leverage KOLs/influencers for Douyin marketing campaigns?
While key opinion leader (KOL) or influencer marketing has globally become a normal marketing approach, its indispensability in China is still unique relative to other countries. Chinese KOLs with a large following across different platforms, not only share content the way Instagram influencers do, but they also penetrate through more windows of customers' lives through live-streaming sessions or online communities. Co-research by Boston Consulting Group (BCG) and Tencent from 2019 showed that more than 70% of Chinese consumers, mainly young individuals under 30, are influenced by KOLs. The mature mobile e-commerce infrastructure also enables them to monetize their fame through product endorsements or direct sales.
For brands, KOL marketing can be a shortcut to reach their target audience – but is it necessary to tap into this form of marketing? There is no one-size-fits-all answer for brands. It will depend on your marketing strategy, business objectives and the industry you are playing in. Whatever the case, one thing is for certain – the appropriate selection of KOLs who match your brand's messaging and marketing strategy can really help you reach your target audience and share your story better. Here is a simple example a KOLs mapping scorecard to help you filter out the right candidates.
KOLs mapping scorecard throughout marketing funnel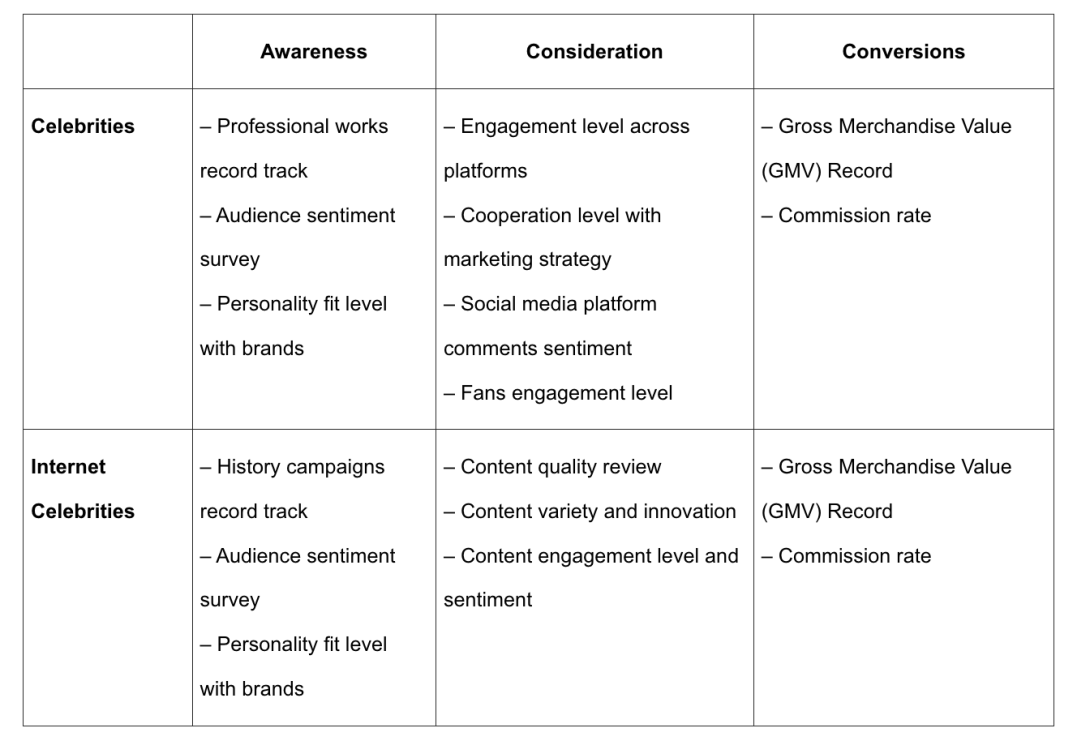 Croud developed a comprehensive KOLs marketing strategy and mapping methodology through long-term practice and cooperation with brands in different industries. If you have any concerns or questions about it, feel free to contact us for a free consultation.
What are MCN agencies? How can you work with them?
Multi-channel network (MCN) agencies connect influencers with brands and platforms. Taking Taobao Live as an example, there have been over 10,000 affiliated MCN agencies active on daily live-streaming broadcast services. More than 90% of China's influencers have been working with or under MCNs in all sizes and capabilities. 
When cooperating with a MCN, brands should be careful with the guaranteed discounts or promotional offers, KOL fees, and sales commission rates (usually ranging from 20-30%) indicated in the contract.
How do you measure Douyin campaign success?
Before rushing to check metrics of every single piece of content on Douyin, brands need to create clear key performance indicators (KPIs) for each stage of the marketing funnel, as each type of KPI presents different goals for each funnel stage. A well-suited KPI framework will guide you through the data and help you find the right metrics.
For example, the following table shows a basic idea of what Douyin campaign KPIs can look like across each stage of the funnel: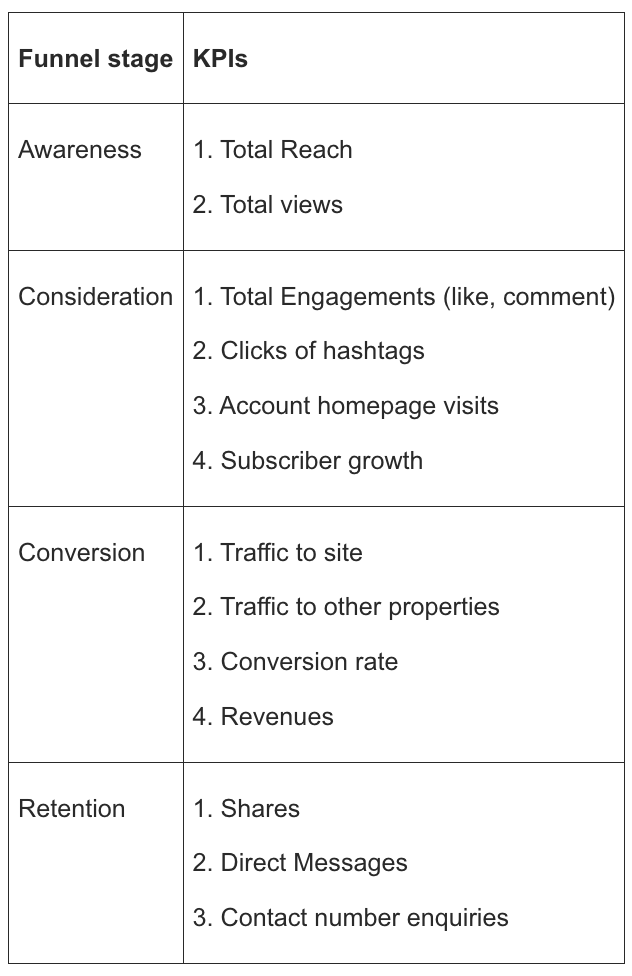 A custom measurement framework adjusted to match your brand's specific goals will help sharpen your marketing efforts and extract real business value. At Croud, we understand that all marketing successes are rooted in solid data measurements guided by a fit-for-purpose marketing strategy. With our help, you will not get lost in the metrics jungle.
How do you set up an official account on Douyin for your business?
A verified business account will be the brand's ideal storefront on Douyin. This will look a bit different from a personal account.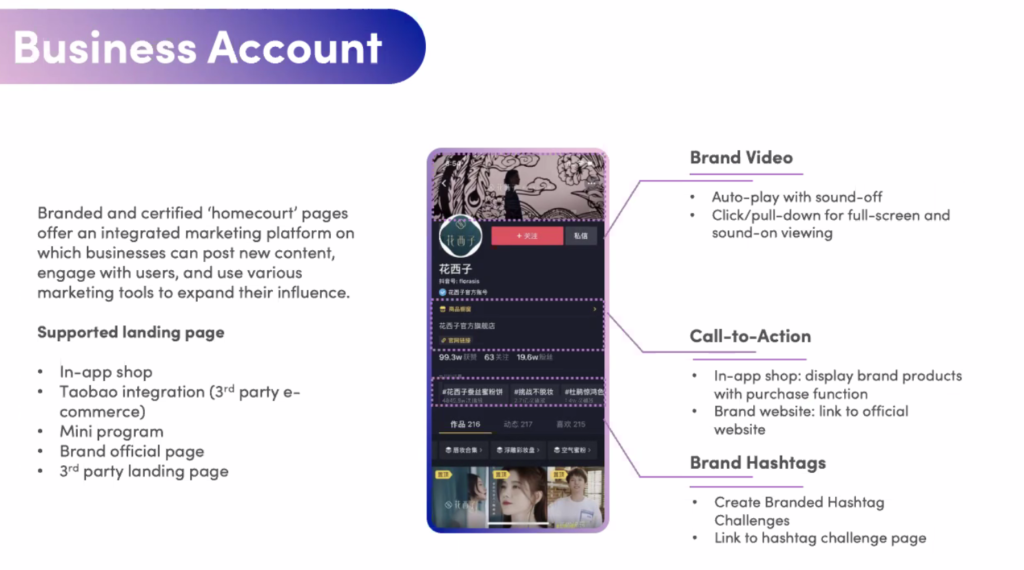 As an app "born for mobile", the first step in setting up a Douyin business account is downloading the Douyin app on your mobile device and creating an account with a phone number.
The next step requires you to visit Douyin's official website where you can verify the business account. To complete the verification, you need to provide information such as type of account, account category, account operator information, and relevant company registration information and documents. Oversea companies are also supported.
Please note that setting up a business account on Douyin incurs a ¥600 verification fee, and the transfer needs to be transacted through your business bank account.
If you'd like to learn more about Douyin marketing, please feel free to contact us for additional guidance and a free consultation.